Practice Management Software
Streamline your digital front and back-office workflows with intuitive patient scheduling, billing, and reporting tools. Our practice management software reduces the administrative burden and optimizes your revenue cycle to accelerate your claims process.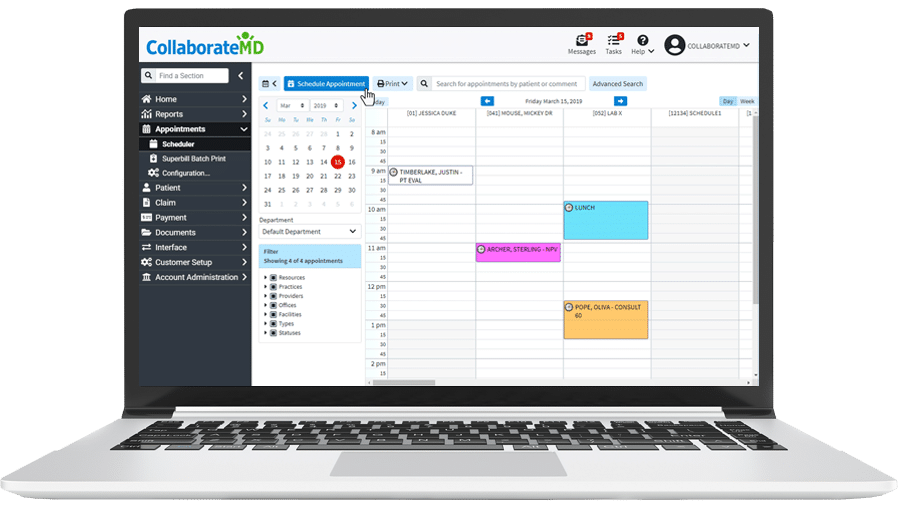 Appointment
Scheduler
Save staff and physician's time with our patient appointment scheduler. Easily create, edit, and find patient appointments.
Real-Time
Patient Eligibility
Eliminate the time your staff spends on verifying insurance and benefit information. Find out within seconds if a patient is eligible.
Advanced
Reporting
Quickly understand your financial performance with 125+ reporting options that help you track your finances and grow your practice.
Boost revenue, and increase productivity. Create tasks that remind you to follow-up on priority claims. 
Submit cleaner claims. Reduce claim rejections with built-in billing and coding edits. Receive accurate reimbursement and get paid faster. 
In-App Credit Card Processing
Collect more co-pays, deductibles and co-insurance deductibles. Swipe your patient's credit card and their payment is directly posted in CollaborateMD.
Electronic Remittance Advice (ERA)
Eliminate manually posted errors and automatically post payments and adjustments.
Easily Track and work claims
to accelerate cash flow.
Review and post payments for faster patient andinsurance collection