Practice Management Software
Easily manage patients and streamline your front office with patient scheduling, billing and reporting tools. Simplify your workflow with a practice management software that saves you time, and gets your claims paid faster.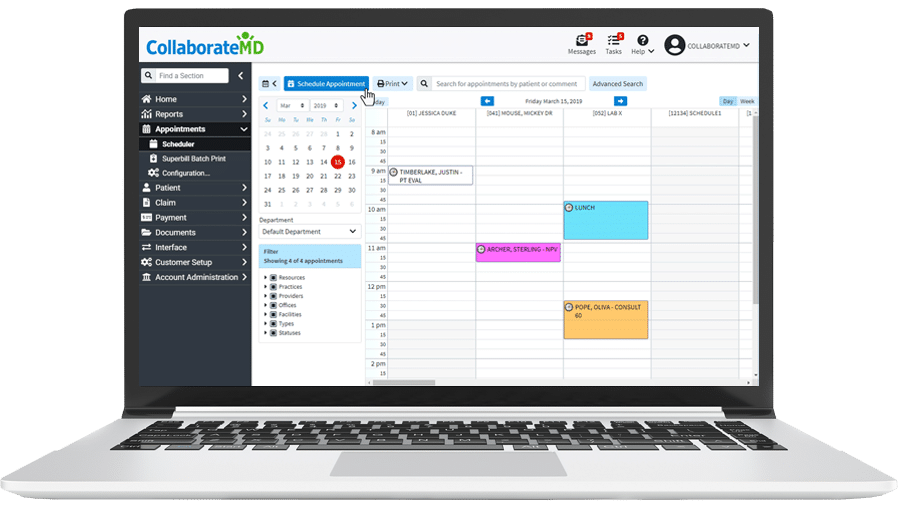 Appointment
Scheduler
Save staff and physician's time with our patient appointment scheduler. Easily create, edit, and find patient appointments.
Real-Time
Patient Eligibility
Eliminate the time your staff spends on verifying insurance and benefit information. Find out within seconds if a patient is eligible.
Advanced
Reporting
Quickly understand your financial performance with 125+ reporting options that help you track your finances and grow your practice.
Our practice management software includes a scheduling function to create and manage patient visits. Take control and configure the scheduler to fit your front-office and back-office workflow. In addition, you can also create claims, enter patient payments, view eligibility and more from the appointment scheduler. Appointment text reminders also help reduce no shows and allows patients to cancel or confirm their appointments. 
Electronic Claim Submission
Save time by submitting claims in real-time. Claims are sent directly to the payer for faster claims processing. 
Submit cleaner claims. Reduce claim rejections with built-in billing and coding edits. Receive accurate reimbursement and get paid faster. 
In-App Credit Card Processing
Collect more co-pays, deductibles and co-insurance deductibles. Swipe your patient's credit card and their payment is directly posted in CollaborateMD.